Sports Physicals
In partnership with First Call Urgent Care, Boosters offers affordable sports physicals to current Glenelg students and incoming freshmen. Howard County Public School System policy requires every athlete to have a physical exam dated after April 1, 2021, in order to try out for any high school sport for the next school year.
First Call Urgent Care generously donates all proceeds from the Sports Physicals program back to Glenelg Boosters.
IMPORTANT: This sports physical should not replace the annual visit with the athlete's primary care physician.
HOW MUCH: $25. In order to receive the $25 sports physical, you must pre-purchase via the link below.
WHERE: All sports physicals take place at Maple Lawn First Call Urgent Care at 10981 Johns Hopkins Road, Laurel, MD. (View Map)
HOW DO I PURCHASE A SPORTS PHYSICAL? Click the link below to complete the online order form and make your $25 payment.
HOW DO I GET MY PHYSICAL? Physicals are currently walk-in only (you do not need to make an appointment). First Call Urgent Care is open Monday-Friday (8 am-8 pm), Saturday-Sunday (8 am-5 pm).
WHAT DO I NEED TO BRING WITH ME?
Your email confirmation is your receipt. You must print the email receipt and bring it with you as your proof of payment.
Pre-Participation Physical Evaluation Form. This evaluation form is to be filled out by the patient and parent prior to seeing the physician. Click here to access and print the evaluation form.
For more information on First Call Urgent Care or to learn about their services and office hours, visit their website at www.firstcallurgentcare.com.
For more information on Glenelg Boosters Sports Physicals contact at glenelgboosters@gmail.com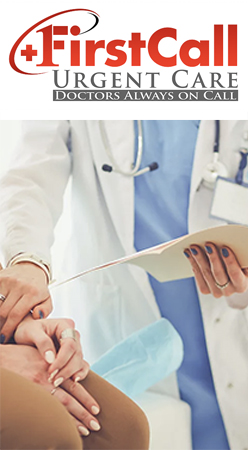 Step 1 - Purchase Sports Physical - $25
Click "Add to Cart" below and checkout with either PayPal or any Major Credit Card.
Step 3 - Visit First Call Urgent Care
10981 Johns Hopkins Road, Laurel, MD (View Map)
No Appointment Needed
Bring PayPal $25 Receipt
Bring completed HOCO Physical Form